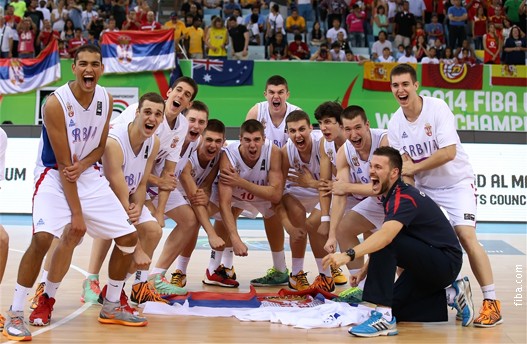 17th Aug 2014
Young hopes of Serbian basketball beat Spain to clinch bronze, in the third/fourth place play-off match at the Hamdan Sports Complex in Dubai on Saturday night at the FIBA U17 World Championship, with three points difference (62-59).
The most efficient player in the Serbian national team was Nikola Rakicevic with 17 points, Marinkovic being runner-up with 14 points.
"We started to play better after the first half", admitted Serbia coach Vanja Gusa. "We had more energy and a good defence in the second half. It was a very difficult game psychologically for both teams. I'm happy - of course - with third place. It's the best position and result Serbia has ever achieved at U17 level".
Serbian young hopes had only one defeat during the Championships from the US national team in semi-final match. Match against the hosting UAE team will be, however, remembered as Serbian team won with 85 points difference.