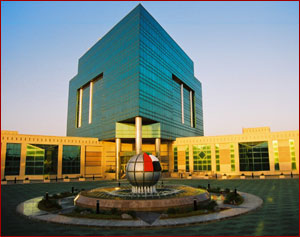 14th Aug 2014
Delegation of Embassy of the Republic of Serbia (presented by Chargé d'affaires Milos Perisic and Second secretary for press and culture Mila Durdevic) was received on Monday 10th August by Director General of The Emirates Center for Strategic Studies and Research His Excellency Jamal Sanad Al-Suwaidi, Ph.d as to consider broadening cultural cooperation between Serbia and The Emirates Center for Strategic Studies and Research (ECSSR).
In a friendly conversation,Al-Suwaidi stressed out that the key of the ascent of cooperation between two countries lies in the improvement of cultural exchange. Culture is the foundation of ascending friendship between people, Al-Suwaidi said.
Chargé d'affaires Perisic expressed his hope for additional strenghtening of cultural bonds between Serbia and United Arab Emirates, through agreements on cultural cooperation and cooperation in the fields of education. Serbia has got exquisite experts in various fields of social sciences, who could hold lectures in the Center, Perisic said. Serbia also welcomes experts from UAE to visit Serbia and hold lectures on topics of today's great importance, in the field of politics and economics.
ECSSR is interested in translating the capital book of the UAE founder and father of the nation His Highness Sheikh Zayed Bin Sultan Al Nahyan into Serbian language. ECSSR will be also glad to welcome First Deputy Prime Minister and Minister of Foreign Affairs of the Republic of Serbia Ivica Dacic to give a lecture at the Center during his forecoming visit in November this year.
ECSSR, situated in Abu Dhabi is a premier institution of its kind in the Middle East. It was established by His Highness Sheikh Khalifa bin Zayed Al Nahyan, president of UAE, and has ever since set new benchmarks of excellence and expertise in the field of strategic studies and research.