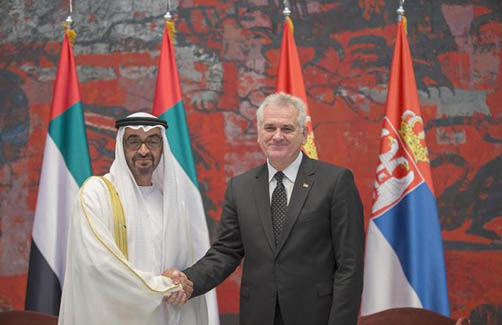 18th September 2014
Prime Minister Aleksandar Vučić welcomed the Crown Prince of Abu Dhabi H.E. Sheikh Mohammed bin Zayed Al Nahyan in Belgrade on Thursday 18th September 2014. He said afterward their meeting that they analyzed the results of cooperation so far and on the Belgrade Waterfront project and air Serbia. It will constitute a great success if the upcoming business results of Air Serbia show profit, Vučić stated. He pointed out that he had discussed other things with sheikh Mohammed bin Zayed Al Nahyan as well, like other joint investments and joint projects, including the Belgrade Waterfront, which he described as very important to Belgrade, especially in terms of tourism.
The sheikh promised he would do everything for the project to succeed, Vučić said. The Serbian government will persevere when it comes to this project and get results, like in the case of Air Serbia, "which we will present proudly to the Serbian people by the end of the year," the prime minister remarked. He said the meeting covered other important infrastructure projects and cooperation in agriculture, particularly in the cattle industry. There was also mention of the need for medical professionals in the UAE, he added. "They need nurses and other medical professionals. We shall see where we can make an international agreement," Vučić said.
Serbian President Tomislav Nikolić stated on Thursday that Serbia will invest maximum efforts in attracting investments from the United Arab Emirates (UAE) and Sheikh Mohammed bin Zayed Al Nahyan promised that his country would continue investing in Serbia. In the talks, Nikolić expressed gratitude to UAE crown prince Sheikh bin Zayed on the investments his country realized in Serbia so far, and underscored the importance of further strengthening of bilateral relations, especially in economy, the president's press service released.
H.E. Sheikh Mohammed bin Zayed Al Nahjan commended what has been done so far in developing friendly relations between people of UAE and people of Serbia. "When I am in Serbia, I feel as if I am at home. UAE will continue to invest in Serbia and we expect from Serbia concrete projects in various fields - agriculture, IT, pharmaceutical industry", sheikh Mohammed bin Zayed said.
During visit of H.E. sheikh Mohammed bin Zayed Al Nahjan, Serbian President Tomislav Nikolic was invited tomake an official visit to UAE in november this year.