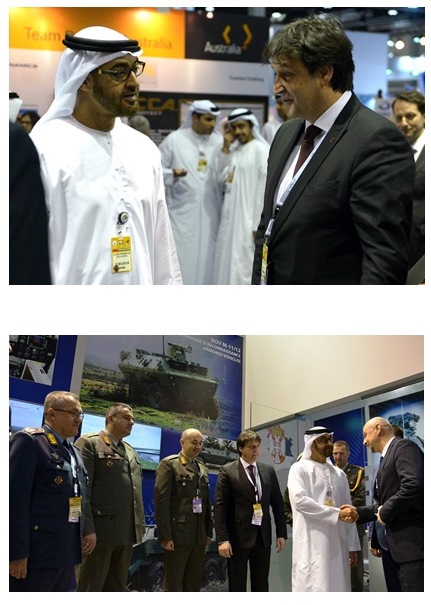 February 24th, 2015
Minister of Defence of the Republic of Serbia Mr. Bratislav Gasic met on February 23rd 2015 with His Highness Sheikh Mohamed bin Zayed Al Nahyan, Crown Prince of Abu Dhabi and Deputy Supreme Commander of the UAE Armed Forces. During the meeting they discussed cooperation ties and ways to enhance relations between two friendly countries, especially in the field of defence. It was stated during the meeting that people of the Republic of Serbia and United Arab Emirates are developing their relations for the next 50 years, and that bilateral meetings at highest level are the actual proof of their good relations.
Minister Gasic highlighted significance of the last visit of HH Sheikh Mohammed bin Zayed Al Nahyan to the Republic of Serbia, as well as his friendship with Prime Minister of the Republic of Serbia Mr. Aleksandar Vucic.
HH Sheikh Mohammed bin Zayed Al Nahyan sent his regards to the Serbian Prime Minister and praised cooperation that is already established between Serbia and UAE. He stated that Serbia has got potential in the field of defence industry and that there are great opportunities for its development.
Minister of Defence is on a four day visit to Abu Dhabi at the invitation of UAE Vice President, Prime Minister and Ruler of Dubai Sheikh Mohammed bin Rashid Al Maktoum. 12th International Defence Exhibition and Conference IDEX is held every two years in Abu Dhabi from 1993. This year, IDEX gathered more than 90 exhibitors from 55 countries all over the world, with 42 countries having their pavilions, thus Republic of Serbia being one of them.