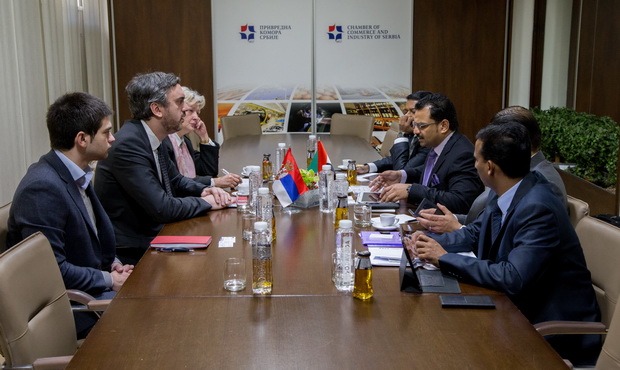 April 6th, 2015
Representatives of the biggest hypermarket chain in the United Arab Emirates "LuLu Group International" visited Republic of Serbia, in cooperation with Serbian Chamber of Commerce, as to explore possibilities of importing Serbian food and agricultural products.
Delegation of "LuLu Group International" was headed by the Director general Mr. Salim M.A. who had meeting with President of the Serbian Chamber of Commerce Mr. Marko Cadez and also visited "Veletrznica Belgrade", the biggest institution for trade of food and agricultural products in the whole ex-Jugoslavian region, offering 870 sales spots and 3,000 square meters of business and warehouse space. Representatives of "LuLu Group International" expressed their interest for importing fresh, frozen and processed fruit and vegetables, as well as for importing meat and meat products, as soon as Serbian Halal Certificate is registered in United Arab Emirates.
Owner of "LuLu Group International" praised visit of President of the Republic of Serbia Mr. Tomislav Nikolic to UAE in November last year and announced that "LuLu" will participate on 82nd International Agricultural Fair, that will be held from 9th to 15th May 2015 in Novi Sad.