President Vučić on a working visit to the United Arab Emirates
President of the Republic of Serbia Aleksandar Vučić, who was on a working visit to the United Arab Emirates, met with the Crown Prince of Abu Dhabi and the Deputy Supreme Commander of the United Arab Emirates Armed Forces, His Highness Sheikh Mohammed bin Zayed Al Nahyan. After the meeting, President Vučić said that it had been agreed that a vaccine against the coronavirus of the Chinese company "Sinopharm" would be produced in Serbia together with the United Arab Emirates and China.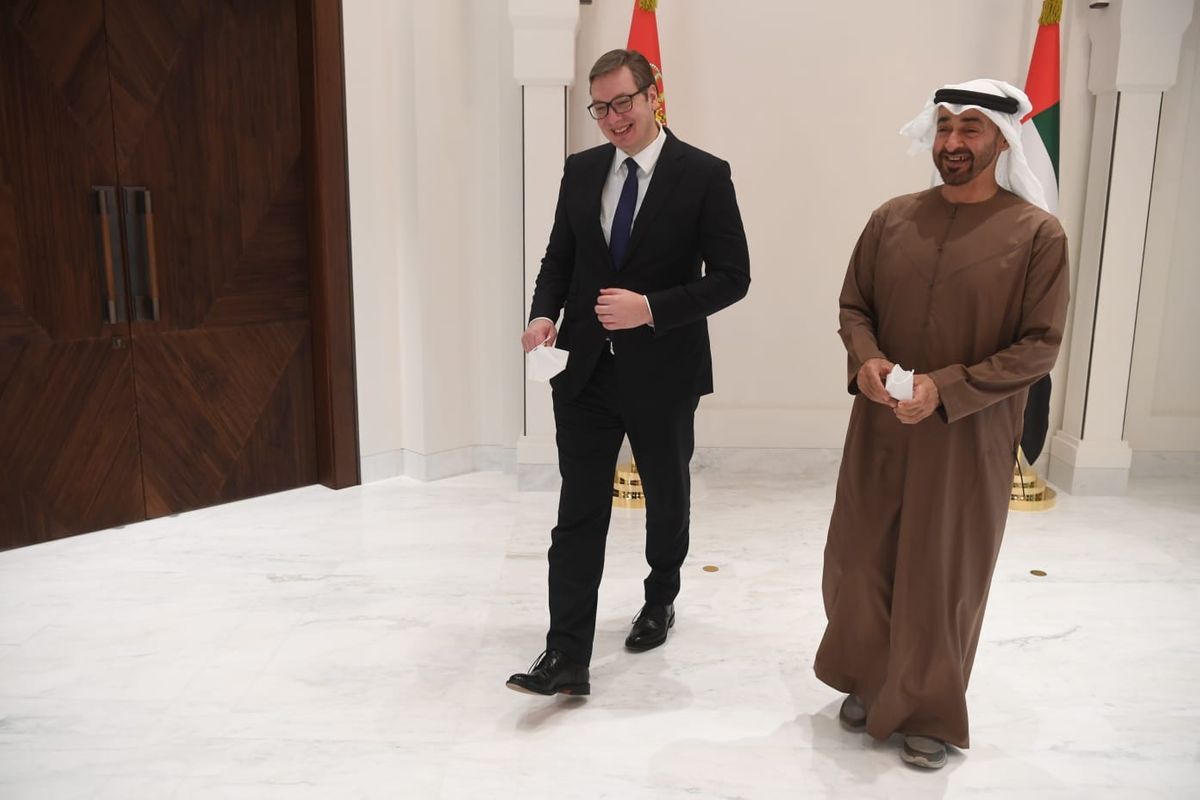 "I bring you a piece of almost unbelievable news from the United Arab Emirates. We made a big deal tonight. We will build a completely new factory for "Sinopharm" vaccines together with the UAE and the Chinese in Serbia and start producing vaccines as early as October 15th", stated the President and added that we will have sufficient quantities of vaccines for us, but also for the entire region.
"We will have a completely new vaccine factory that will be able to produce other vaccines in the future; when you have a coronavirus, it is clear that in ten or more years there will be new viruses. For Serbia, this involves the health of people, which becomes one of the four pillars of every country, but also the economy," he said.
President Vučić said that a large number of topics were discussed at the meeting, from military-technical cooperation, Belgrade Waterfront, to the export of our fruits and vegetables and agricultural products to the UAE.
Earlier in the day, President Vučić also met with Kaldoon Al Mubarak, with whom he had a specific conversation regarding vaccination.
President Vučić also attended the presentation of the UAE model in crisis management caused by COVID-19 presented by Dr Saif Aldhaheri, Director of Safety and Prevention, Official Spokesperson of the National Emergency, Crisis and Disaster Management Authority (NCEMA), as well as the presentation of UAE experience during the vaccination process against COVID-19, which was presented by Dr Farida Alhosani, Official Spokesperson for Health Sector UAE, Head of National COVID Research Committee, Department Manager of Communicable Diseases Department, Department of Health-Abu Dhabi.
Photo: Dimitrije Gol