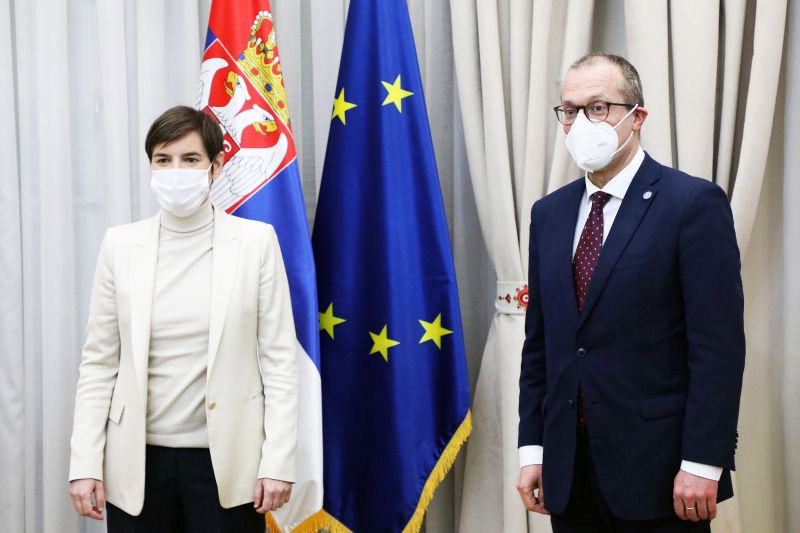 Prime Minister Ana Brnabic talked today with World Health Organisation (WHO) Regional Director for Europe Hans Kluge about the epidemiological situation and the course of immunisation of citizens in Serbia.
Brnabic expressed gratitude for the cooperation in the fight against the pandemic, technical assistance and expertise, emphasising that the support of this organisation is very important for our country.
She informed the WHO Regional Director for Europe about the course of immunisation of citizens in Serbia, expressing her belief that, thanks to the large number of vaccinated people, we will be able to create collective immunity and return to normal life.
Kluge assessed the immunisation process in Serbia as impressive, and added that Serbia has made a good decision to offer citizens all available vaccines used in the fight against coronavirus.
Expressing concern over the emergence of new strains of the virus, he stressed the need to speed up the immunisation process and show mutual solidarity.
The WHO Regional Director for Europe praised Serbia for the humanity it has shown by donating vaccines to the countries of the region and enabling vaccination for those who do not have a sufficient number of vaccines for their citizens.
The Prime Minister said that Serbia will continue to cooperate with the countries of the region and help in accordance with its capabilities.
When it comes to the project "Roadmap for Health in the Western Balkans 2021-2025", it was stated that, if epidemiological conditions allow, a regional meeting will be held in Belgrade at the end of the year, important for future improvement of cooperation between countries in the field of health challenges.
Source: www.srbija.gov.rs
Photo: www.srbija.gov.rs